Ultraprobe® 3000
Either for compressed air, leak detection, steam traps or electrical applications, the Ultraprobe® 3000 is your tool for energy conservations!
Here is a digital Ultraprobe® that's versatile enough to cut energy waste and improve uptime while saving money, and improving the environment. The Ultraprobe® 3000 is a digital ultrasonic inspection, information, storage, and retrieval system that comfortably fits in the palm of your hand.
Find your leaks & report cost per leak with DMS reporting
Inspect for faulty steam traps
Inspect electrical systems for discharge problems
Troubleshoot bearing & mechanical problems
Why Choose this instrument?
Easy to use
Accurate & repeatable digital data with 400 storage points
Ideally for point & shoot trouble shooting & energy conservation programs
Comes with licence free data management software (DMS) to create yearly cost per leak reports!
On board data logging utilizing Ultratrend DMS™ providing:
Download leak data via USB connection
Manage your data, add comments & pictures
Export leakdata to leakreport in Excel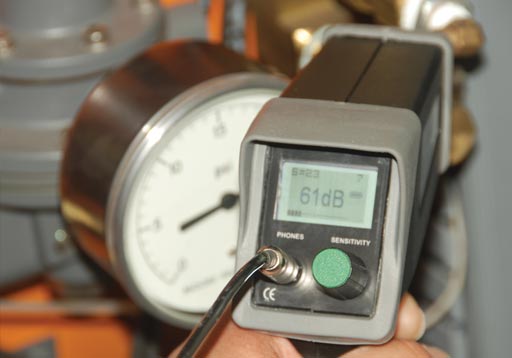 Features include:
Wide, dynamic sensitivity range
400 memory locations on-board for your test data
"Spin and click" operations to customize inspection modes, store and view data and adjust instrument settings
Lightweight pistol unit
Easy-to-read display panel with calibrated decibel readout and a 16 segment bar graph. The display panel showcases sensitivity level, storage location number and battery level.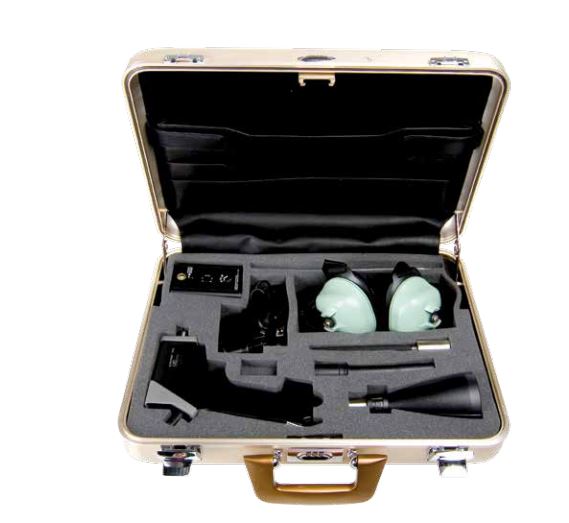 Complete Kit
Ultraprobe® 3000 LRM Ultrasonic Detection Kit
Complete with everything you need for digital route inspection, the Ultraprobe® 3000 LRM kit includes:
UP 3000 Pistol with Decibel Readout and 16 Segment Bar Graph Display Panel
"Spin and Click" Sensitivity/Control Dial
Scanning Module
Stethoscope (Contact) Module
Mini-USB I/O Port & Cable
Storage Entry
Recharge Jack
DHC-2HH-Heavyduty, Durable Headphones for Use With a Hard Hat
Zero Halliburton Carrying Case (Case specs may vary. Please contact us for details.)
Li Polymer Rechargeable Battery and Charger
Rubber Focusing Probe
Stethoscope Extension Kit (SLP-EXT)
Long Range Module
Technical Specs
Ultraprobe® 3000 Technical Specs
Standard specifications for the Ultraprobe® 3000 are as follows:
Construction: Hand-held pistol type made with ABS plastic
Circuitry: Solid state analog and SMD digital circuitry with temperature Compensation
Frequency Range: Frequency response: 35-45 kHz
Response Time: <10 milliseconds Display: 128×64 Graphic LED with LED backlight
Memory: 400 storage locations
Battery: Li Polymer Rechargeable
Operating Temperature: 32° F to 122° F (0° C to 50° C)
Output(s): Calibrated heterodyned output, decibel (dB) frequency, USB data output
Available Probes: Scanning module and stethoscope (contact) module, long range module, RAS MT
Headset: Deluxe noise attenuating headphones. Over 23 dB of noise attenuation. Meets or exceeds specifications and OSHA standards
Indicators: dB, battery status and 16 segment bar graph, sensitivity setting, record number
Threshold: 1 x 10-2 std. cc/sec to 1 x 10-3 std. cc/sec
Dimensions: Complete kit in Zero Halliburton aluminum carrying case 15″ x 22″ x 5″ (38.1 x 55.9 x 11.43 cm)
Weight: Pistol Unit: 1 lb (.45 kg); Carrying Case: 11 lbs (4.99 kg)
Warranty: 1 year standard, 5 years with completed registration form
Available Optional Accessories (Call, fax or e-mail for information)
Long Range Module doubles detection distance (LRM-3)
HTS Holster Set (HTS-3)
Telescoping Flexible Scanning Module (TFSM-3)
Specialized Air and Steam Tags Available.
Covered by one or more of the following patents: 4416145, EPO151115, 502674183.
Ultraprobe 3000 Kit: Meets and exceeds ASTM E1002-2005 requirements for Leak Detection.
FALCON
Packing in ONEPROD's 30 years of experience in the condition monitoring of rotating equipment, FALCON is ...
Product Details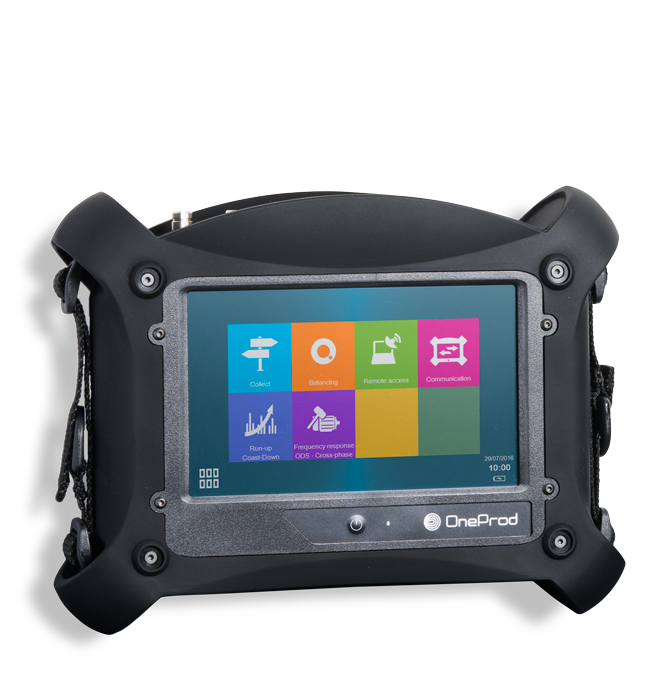 Eagle
ONEPROD EAGLE is a wireless monitoring system for critical rotating machinery. It measures automatically vibration ....
Product Details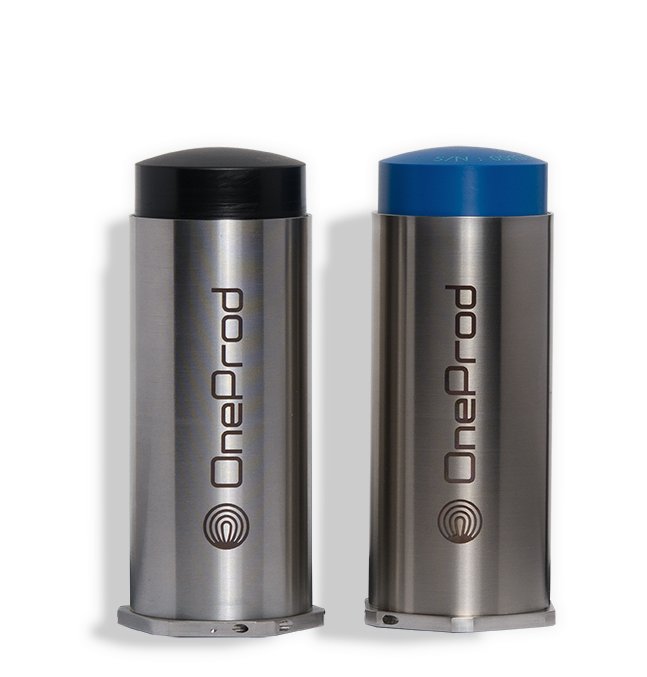 MVX
ONEPROD MVX system is intended for continuous multi-channel monitoring solution for critical rotating equipment...
Product Details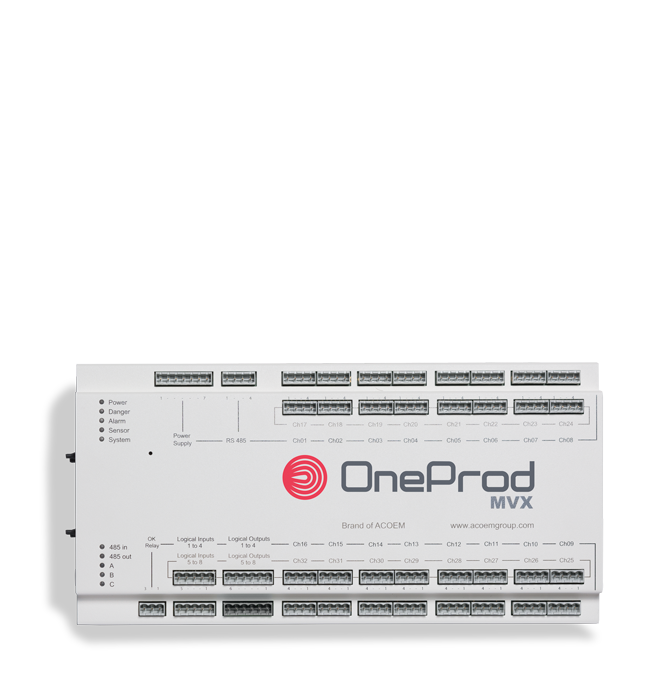 Interested in our shaft alignment devices or need advice?
Then please get in touch and we'll be glad to help.

T: +966 13 896 9012 | E: sales@irismt.com