Ultraprobe® 9000
Expand your inspection capabilities with the ultrasound digital technology.
All the advantages of Digital with the feel of Analog.
The Ultraprobe 9000 Kit Complete is a digital ultrasonic inspection, information storage and retrieval system that is so versatile, so easy (most operators are able to use the Ultraprobe 9000 within 15 minutes of purchase) and so much fun to operate, you'll be looking for opportunities to use it every day.
From the very instant you hold the Ultraprobe 9000 Ultrasonic Inspection System in your hand, the feel of the well balanced pistol grip, the elegance of simplicity, and the clarity of signal will convince you that this is truly a remarkable feat of engineering. This Ultraprobe is ready to unleash the potential of any inspection program.
Open Platform Software
Interchangeable Modules
Frequency Tuning
Spin and Click™ Technology
120 dB Dynamic Range
400 Memory Locations Record: dB, Frequency, Time, Date, Text, Operation Mode & More
Acoustic Isolating Headphones
Environmentally Friendly Rechargeable Batteries
Superior Application Support
Easy Interface for Most Vibration Analyzers
Upload and Download Data via USB
SPIN AND CLICK™ TECHNOLOGY
UE Systems' unique Spin and Click ™ Technology makes sophisticated inspection processes so simple, so quick, that you will be amazed at how much you can accomplish with only two controls.
By just "spinning" and "clicking" you can:
Locate and Identify Potential Problems
Store Data
Change Frequency Quickly
Change Sensitivity Quickly
Download via USB Output
Select "Snap Shot", "Peak Hold" , "Real Time" …and More!
Your first glance at the easy to read display panel shows you something special. You can see the calibrated decibel readout and a 16 segment bar graph which instantly registers sound intensity changes and simultaneously registers peak hold as you scan.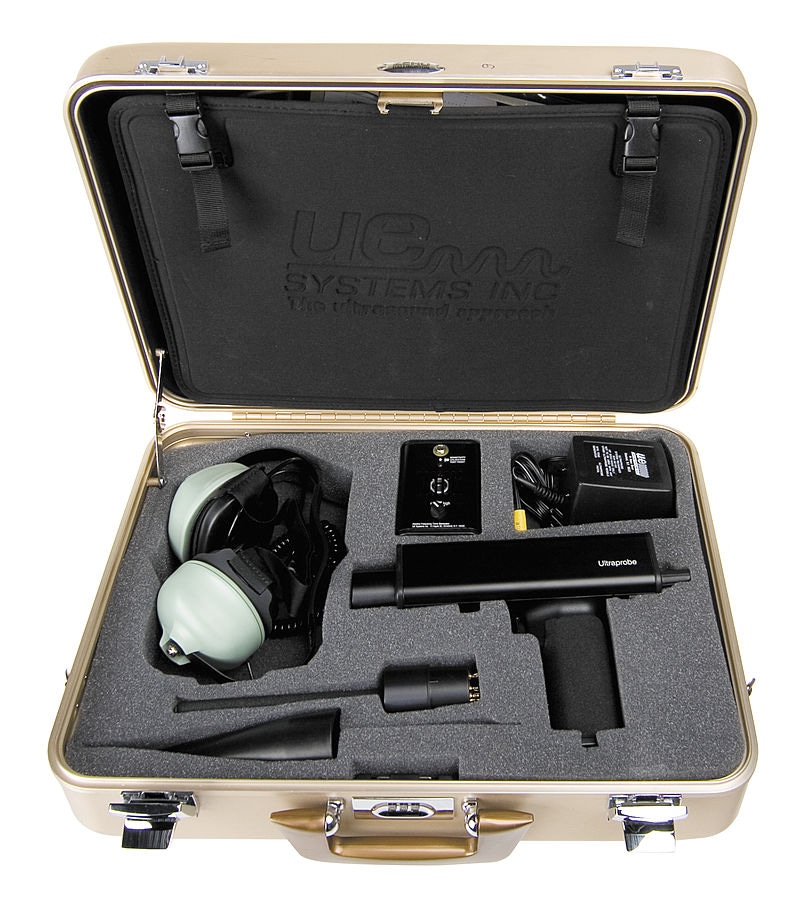 Complete Kit
Ultraprobe® 9000 Complete Detection Kit
Complete with everything you will ever need for ultrasonic digital inspection, our kit includes:
DHC-2 DELUXE NOISE ISOLATING HEADSET:
This heavy duty headset is designed to block out intense sounds (over 23 dB of noise attenuation) often found in industrial environments so that the user may easily hear the sounds received by the ULTRAPROBE 9000.
WTG-1 WARBLE TONE GENERATOR:
The Warble Tone Generator is used to provide a sensitivity validation (Calibration) test. It is also used as an ultrasonic transmitter designed to flood an area with ultrasound as part of a leak test. When placed in an empty container, it will flood that area with an intense ultrasound that will flow through a leak hole.
RFE-9 RUBBER FOCUSING PROBE:
The Rubber Focusing Probe is a cone shaped rubber shield. It is used to block out stray ultrasound and to assist in narrowing the field of reception of the "Trisonic" Scanning Module.
USB DATA OUTPUT/INPUT CABLE
BCH-9 BATTERY CHARGER:
This is the standard battery charger for the Ultraprobe 9000 with a line input of 120 Volts AC @ 60 Hz. The charging time is about 8 hours. (For countries with 220 Volts @ 50 Hz, the BCH-92 is considered a standard accessory)
BCH-WTG BATTERY CHARGER:
This is the standard battery charger for all Warble Tone Generators that are used with the Ultraprobe 9000. The line input is 120 Volts AC @ 60 Hz and the charging time is about 8 hours. (For countries with 220 Volts @ 60 Hz, the BCH-WTG2 is considered a standard accessory)
SCM-9 TRISONICTM SCANNING MODULE:
This module receives air-borne ultrasounds such as those emitted by pressure/vacuum leaks and electrical discharges. The Trisonic Scanning Module has a phased array of three piezoelectric transducers which focuses the ultrasound on one "hot spot" for directionality and effectively intensifies the signal so that minute ultrasonic emissions can be detected.
STM-9 STETHOSCOPE (CONTACT) MODULE:
This module has a metal rod that acts as a "waveguide". It is sensitive to ultrasound that is generated internally such as within a pipe, bearing housing or steam trap. Once stimulated by ultrasound, it transfers the signal to a piezoelectric transducer located directly in the module housing. It is "module shielded" to provide protection from stray RF waves that have a tendency to effect electronic receiving and measurement. It is equipped with low noise amplification to allow for a clear, intelligible signal.
SLP-EXT STETHOSCOPE EXTENSION KIT:
This consists of three metal rods that will enable a user to reach up to 31 additional inches (78.7 cm) with the Stethoscope Probe.
PISTOL-GRIP HOUSING:
The Pistol Grip Housing is the main control unit. It consists of the display panel, the "Spin & Click" controls for volume/frequency adjustment, data entry and data storage, the headphone jack, battery, I/O port, trigger on/off switch and module receptacle.
HALLIBURTON CARRYING CASE
Technical Specs
Ultraprobe® 9000 Technical Specifications
Standard specifications for the Ultraprobe® 9000 include:
Construction: Hand-held pistol type made with coated aluminum and ABS plastic
Circuitry: Solid State Analog and SMD Digital Circuitry with temperature compensation
Frequency Range: 20 kHz to 100 kHz (tunable in 1 kHz increments)
Response Time: <10 milliseconds Display: 16 x 2 LCD with LED Backlight
Memory: 400 storage locations
Battery: NiMH Rechargable
Operating Temperature: 32° Farenheit to 122° Farenheit (0° Celcius to 50° Celcius)
Output(s): Calibrated heterodyned output, decibel (dB) frequency, USB data output
Probes: Trisonic Scanning Module and Stethoscope Module
Headset: Deluxe noise attenuating headphones. Over 23 dB of noise attenuation. Meets or exceeds ANSI specifications and OSHA standards.
Indicators: dB, Frequency, Battery Status, and 16 Segment Bar Graph
Sensitivity: Detects .005″ (.127 mm) diameter leak @ 5 psi (.34 bar) at a distance of 50 feet (15.24m)
Threshold: 1 x 10-2 std. cc/sec to 1 x 10-3 std. cc/sec
Dimensions: Complete kit in zero halliburton aluminum carrying case 15″ x 22″ x 7″ (38.1 x 55.9 x 17.8 cm)
Weight: Pistol Unit: 2 lbs. (.9 kg) Complete carrying case: 14 lbs. (6.4 kg)
Warranty: 1 year parts/labor standard, 5 years with returned completed warranty registration
Display Modes: Real Time, Peak Hold, and Snap Shot
dB Measurement: Relative or Offset
Covered by one or more of the following patents: 4416145, EPO151115, 502674183
FALCON
Packing in ONEPROD's 30 years of experience in the condition monitoring of rotating equipment, FALCON is ...
Product Details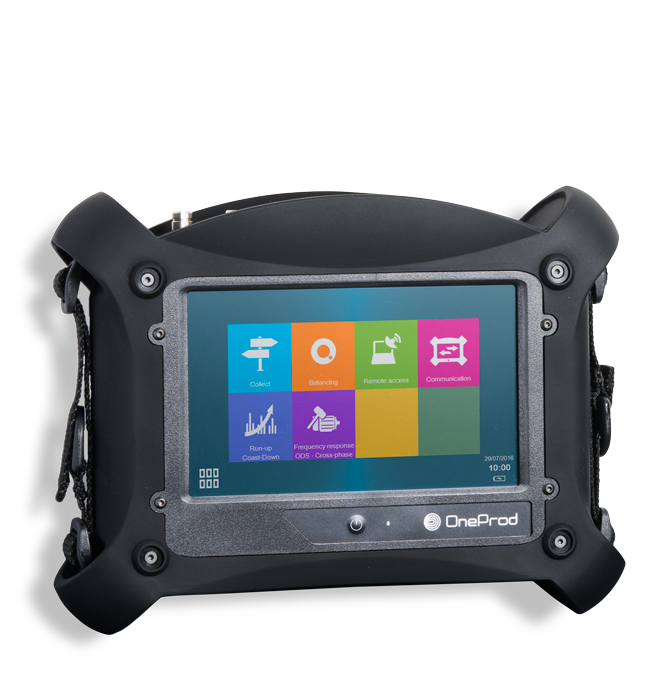 Eagle
ONEPROD EAGLE is a wireless monitoring system for critical rotating machinery. It measures automatically vibration ....
Product Details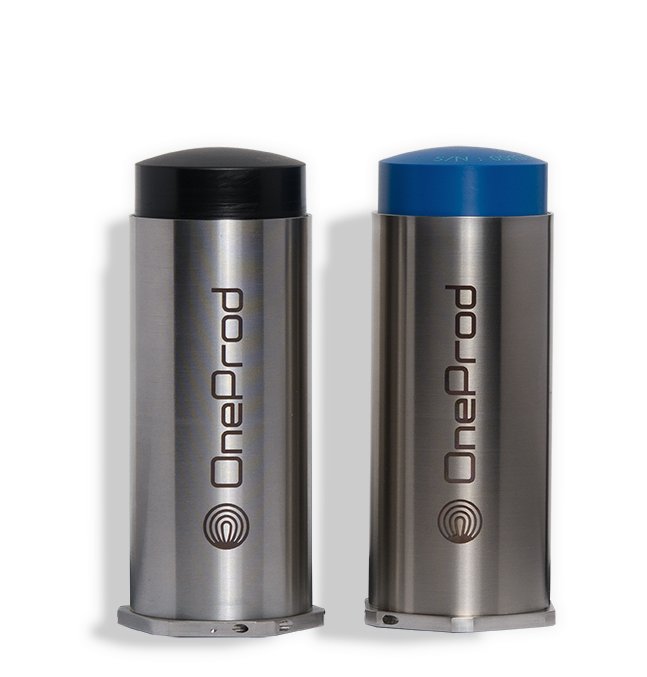 MVX
ONEPROD MVX system is intended for continuous multi-channel monitoring solution for critical rotating equipment...
Product Details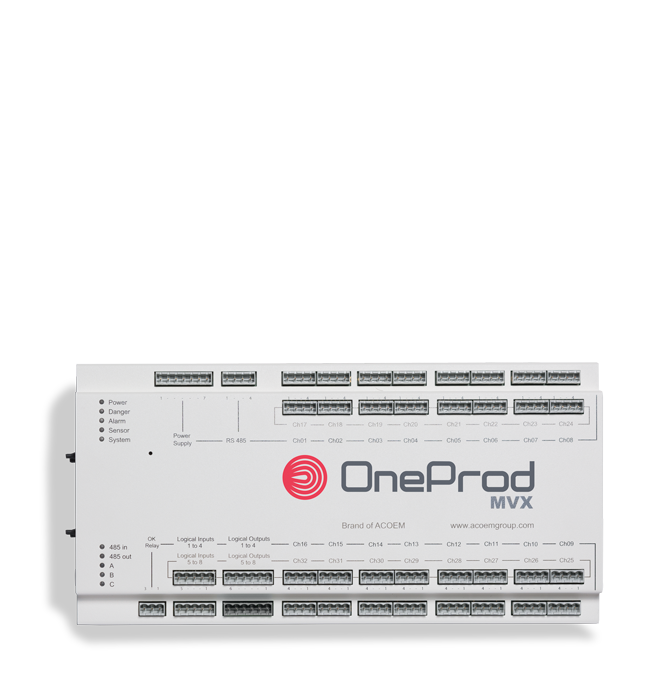 Interested in our shaft alignment devices or need advice?
Then please get in touch and we'll be glad to help.

T: +966 13 896 9012 | E: sales@irismt.com