Ultraprobe® 2000
The industry's most comprehensive analog ultrasound instrument!
Fast, accurate, and designed for ease of use, it often takes no more than 15 minutes to become competent in ultrasonic testing using the Ultraprobe® 2000.
Find compressed air and faulty steamtraps, prevent machinery failure & listen to electrical systems for discharges.
Why Choose this instrument?
Easy to use
Frequency adjust possibility 20-100 kHz
Accurate analogue meter with meter mode function
Ideally for point & shoot trouble shooting
Ultrasound Technology is the smart approach to inspection:
Ultrasound is very directional and localized
Ultrasound can be easily blocked or shielded
Ultrasound instruments can be used in noisy environments
Changes in Ultrasound provide early warning of potential problems
Ultrasound instruments are easy to use!
The Ultraprobe® 2000 also enables data reporting through three modes: through auditory channels (via a headset that has been specifically selected for heavy duty industrial use), through a uniquely designed bi-modal analog meter, and through the ability to interface with vibration analyzers, & sound recording devices via the heterodyned output.
For use in hazardous environments, an ATEX or EX rated model is also available.
The Ultraprobe® 2000 can be adapted to test practically any problem in operating equipment with such features as:
FREQUENCY TUNING enables a user to tune into problem "sounds" while minimizing background interference.
METER MODE selection adjusts the meter response from a real time response to an averaging response. This feature allows accurate adjustments for leak detection and for mechanical analysis.
The Ultraprobe® 2000 can heterodyne ultrasound into audible range providing accurate sound reproduction.
Sensitive only to ultrasonic frequencies, the Ultraprobe® 2000 will not respond to the low frequency noises often associated with most plant equipment. Therefore, the instrument can be effectively utilized in very loud factory environments.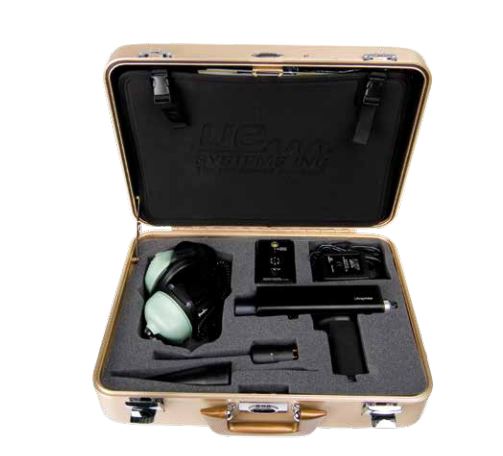 Complete Kit
Ultraprobe® 2000 Ultrasonic Detection Kit
Complete with everything you need to for accurate route inspection, the Ultraprobe® 2000 kit includes:
ULTRAPROBE housing with Metered Pistol Grip, Ballistic Meter, Frequency Tuning Dial, Ten Turn Potentiometer, Numerically Calibrated Sensitivity Dial with Selection Lock, Bi-Modal Meter Selector switch, battery, battery indicator light, battery recharger receptacle and head set receptacle.
Trisonic scanning Module for locating airborne ultrasound such as pressure, vacuum and electrical leakage.
Rubber Focusing Probe for narrowing reception band of Scanning Module and for blocking out ambient ultrasound.
Stethoscope (contact type) Probe for monitoring internally generated ultrasound such as in bearings, steam traps and valves.
Deluxe Industrial noise reducing Headset.
Video Training Tape Program
Extension Probe Kit to increase Stethoscope contact range to 31 inches.
Warble Tone Generator with amplitude selection switch for use in Tone Test method.
Battery Recharge Kit for main housing and Warble Tone Generator.
Zero Halliburton aluminum carrying case
FACTORY MUTUAL RATED
Intrinsically Safe
Class 1, Division 1, Groups A, B, C & D
Exceeds ASTM-1002-05
Standards for ultrasonic leak detection
CE rated
EX Rated
Technical Specs
Ultraprobe® 2000 Technical Specifications
Standard specifications for the Ultraprobe® 2000 are as follows:
CONSTRUCTION: Hand held metered pistol type made with anodized aluminum and ABS plastic
FREQUENCY RESPONSE: Detect ultrasonic frequencies between 20 kHz and 100kHz, continuously variable. Frequencies are converted to 100 Hz to 3 kHz audio.
PROBES:
Scanning Module: patented TRISONIC plug-in type consisting of a phased array of multiple transducers for airborne ultrasound. This probe is shielded against RF interface.
Rubber Focusing Probe (flexible) slips over scanning module to concentrate conical directivity and to shield reception of stray ultrasound. Also fits over Stethoscope Module to shield against high ambient ultrasound while unit is at maximum sensitivity.
Stethoscope Module: plug-in type, insulated probe with RF shielding; 4 1/2″ (11.4 cm) long steel probe tip, conically shaped for uniform surface contact. Probe tip is interchangeable. Stethoscope Extension Kit: 3 piece, segmented metal rods to increase stethoscope contact range 20″ (50.8.cm) and 31″ (76.2 cm).
TRANSMITTER: Patented warble tone transmission
HEADSET: Noise isolating type: double headset wired monophonic, impedance, 16 ohms. Over 23 dB of noise attenuation. Meets or exceeds ANSI specification and OSHA standards.
INDICATORS: Ballistic output meter: linear calibration scale of 0-100 for logging relative measurements. Meter is accurate 1% throughout entire scale. Low level Battery LED indicator for main housing internal power supply.
BATTERIES: Self contained nickel-cadmium rechargeable. RECHARGING SYSTEM: Standard 110V. Also available in 220V.
FEATURES:
Frequency tuning adjustment dial: Scale 20-100 kHz with "fixed band" positions for ultra-narrow frequency response.
Bi-Modal Meter Switch for logarithmic and linear meter scale adjustments.
Optional auxiliary mode selection for chart recorder output: 0 – 50 mV, Precision 10 turn adjustment dial with numerically calibrated sensitivity increments for finite gain adjustment.
Sensitivity Control, A 10 turn numerically calibrated adjustable potentiometer. Spring loaded trigger switch.
OVER-ALL SIZE: Complete kit in Zero Haliburton aluminum carrying case: 15″ x 22″ x 7″ (38.1 x 55.9 x 17.8 cm). Pistol unit 2 lbs (.9kg). Complete carrying case: 14 lbs (6.4 kg).
SENSITIVITY: Detects .005″ (.127 mm) dia. leak @ 5 psi (.34 bar) at a distance of 50 ft
(15.24 m).
THRESHOLD*: 1 X 10-² 1 X 10-³ std. cc/sec. freon
WARRANTY: 5 Years parts/labor
*depends on configuration
ULTRAPROBE 2000 KIT: Meets and exceeds ASTM E1002-93 requirements for Leak Detection.
GOVERNMENT CODES
NSN: 6635-01-156-3927
FSCM (CAGE) Code: 59202
Table of Allowance #s:
788, 404, 576, 583, 607
Covered by one or more of the following patents: 4416145, EP015115, 502674183
Factory Mutual System Approved
Intrinsically Safe, Class 1, Division I, Groups A, B, C & D
American Buerau of Shipping (ABS) TYPE APPROVAL 95-NY-166-X
Det Norske Veritas (DNV)
FALCON
Packing in ONEPROD's 30 years of experience in the condition monitoring of rotating equipment, FALCON is ...
Product Details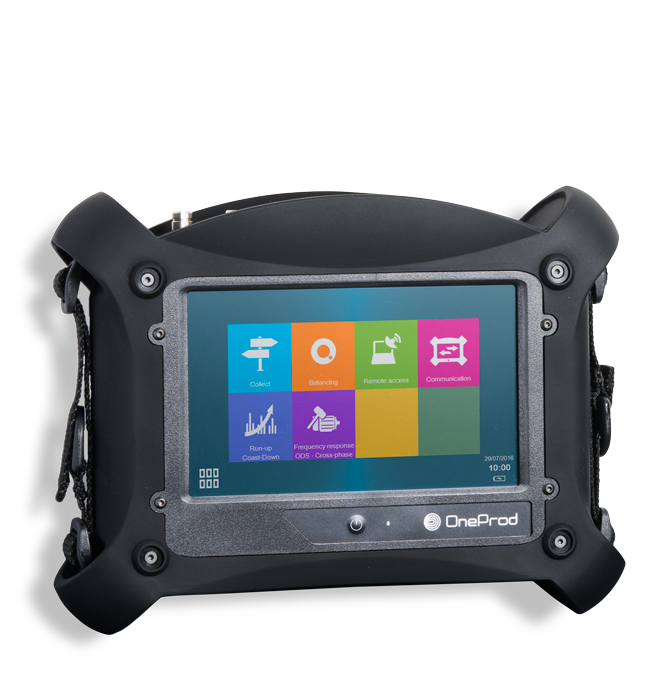 Eagle
ONEPROD EAGLE is a wireless monitoring system for critical rotating machinery. It measures automatically vibration ....
Product Details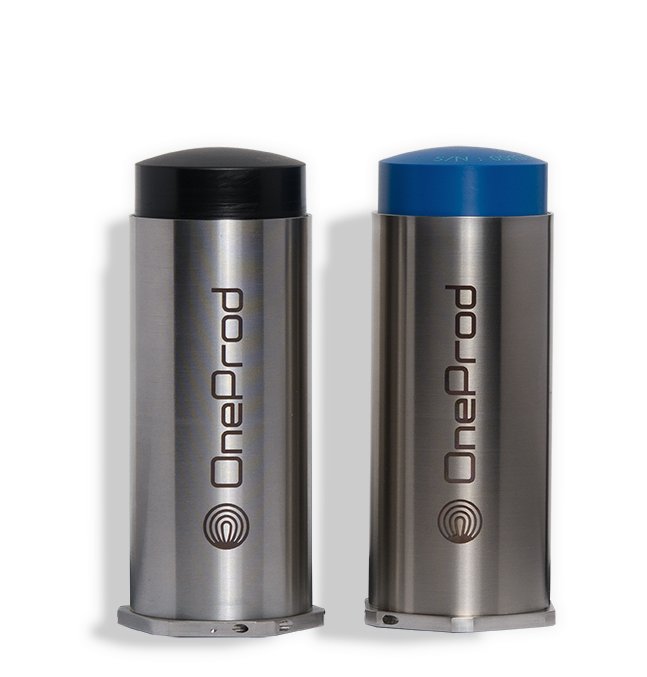 MVX
ONEPROD MVX system is intended for continuous multi-channel monitoring solution for critical rotating equipment...
Product Details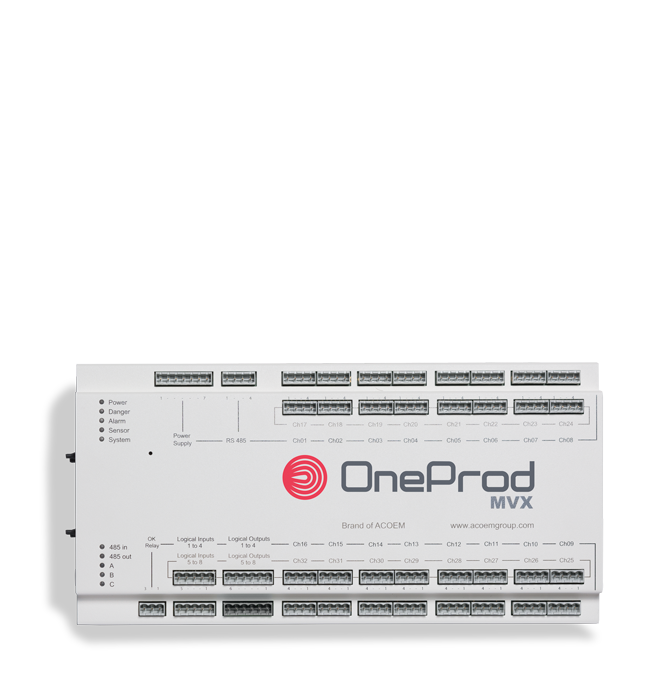 Interested in our shaft alignment devices or need advice?
Then please get in touch and we'll be glad to help.

T: +966 13 896 9012 | E: sales@irismt.com