FIXTURLASER NXA Ultimate
ITEM # P-0253
Alignment applications plus geometric measurement make this the ultimate measurement instrument.
SUMMARY
The combination of alignment and geometric routines allows the user to address many of the root causes of outages as part of a complete preventive maintenance program. With a wide range of applications, a screen interface featuring animated 3-D images and a large color touch screen (6.5″) the NXA Ultimate is remarkably user friendly.
HIGHLIGHTS
Largest range of alignment plus geometric applications
Geometric routines for straightness (includes bore) and flatness (circular & rectangular)
Flatness routine compliant with Ariel ER-82 specification and worksheet
Pair up to 5 different sensors as required
Built-in, customizable PDF reporting
Intuitive interface
Large touch screen
Color coded results
Improved 3D animations with video game quality graphics
MEMS gyroscope built-in to both sensors and the display unit
Large 30 millimeter 2nd generation scientific grade CCD sensors
Wireless Bluetooth® II built-in to small form factor sensors
Lifetime warranty
Applications
The NXA Ultimate is perfect for measuring horizontal alignment conditions but its real power is in helping correct misalignment. The dual sensors allow the NXA to maintain the true position of the shafts, even as unintended movements are experienced during the alignment process. The benefit of this "true positon sensing" is that it allows the user to complete the alignment using the Verti-Zontal™ compound move, adjusting in both the vertical and horizontal planes without remeasuring between moves. A Verti-Zontal™ alignment is a great time saver since alignments can be completed in just one or two tries. The NXA Ultimate also comes with a number of utility programs to make the alignment process easier. These include Softcheck™ to control for soft foot conditions, FeetLock™ to deal with base and bolt bound situations, HotCheck™ to calculate the difference between measurements taken in a cold state versus a hot condition, and Target Values, which automatically adjusts the readings to compensate for pre-determined alignment targets based on thermal growth or dynamic movement data.
Utilities
This program calculates the appropriate target values for an alignment based on the machine's hot condition and ambient condition. The utility retrieves two saved shaft alignment measurements — one in the machine's cold, or ambient condition and one in the hot condition — and then calculates the appropriate target values. Those values can be used the next time to ensure proper alignment at running conditions.
What's Included
Full VGA 6.5″ color display, TFT-LCD backlit, sunlight readable, with wide angle viewing technology. 
M3 moveable machine transmitter/detector with 30mm CCD sensor and built-in Bluetooth II
S3 stationary machine transmitter/detector with 30mm CCD sensor and built-in Bluetooth II
NXA V brackets, including 4-150mm rods and 2-470mm chains
Two 970mm extension chains
Rod extension kit, 4-100mm
Two 150mm rods
49mm offset bracket
NXA extension fixture
Angled Universal Rod tools (2)
Magnetic base for mounting on large diameter shafts
Magnetic V-brackets (2) for applications where chain brackets won't fit
External power supply NXA built into carrying case
T21 laser transmitter for flatness applications, includes mounting kit
RM (Movable Receiver) laser receiver with BT-2 Bluetooth
Carrying case – IP-65, high impact ABS
NXA tape measure
USB stick
Manuals – NXA (printed and CD) and Geometry (printed and CD)
Lifetime warranty standard
FIXTURLASER EVO
The evolution of laser shaft alignment towards simplicity and confidence continues with the Fixturlaser EVO.
Product Details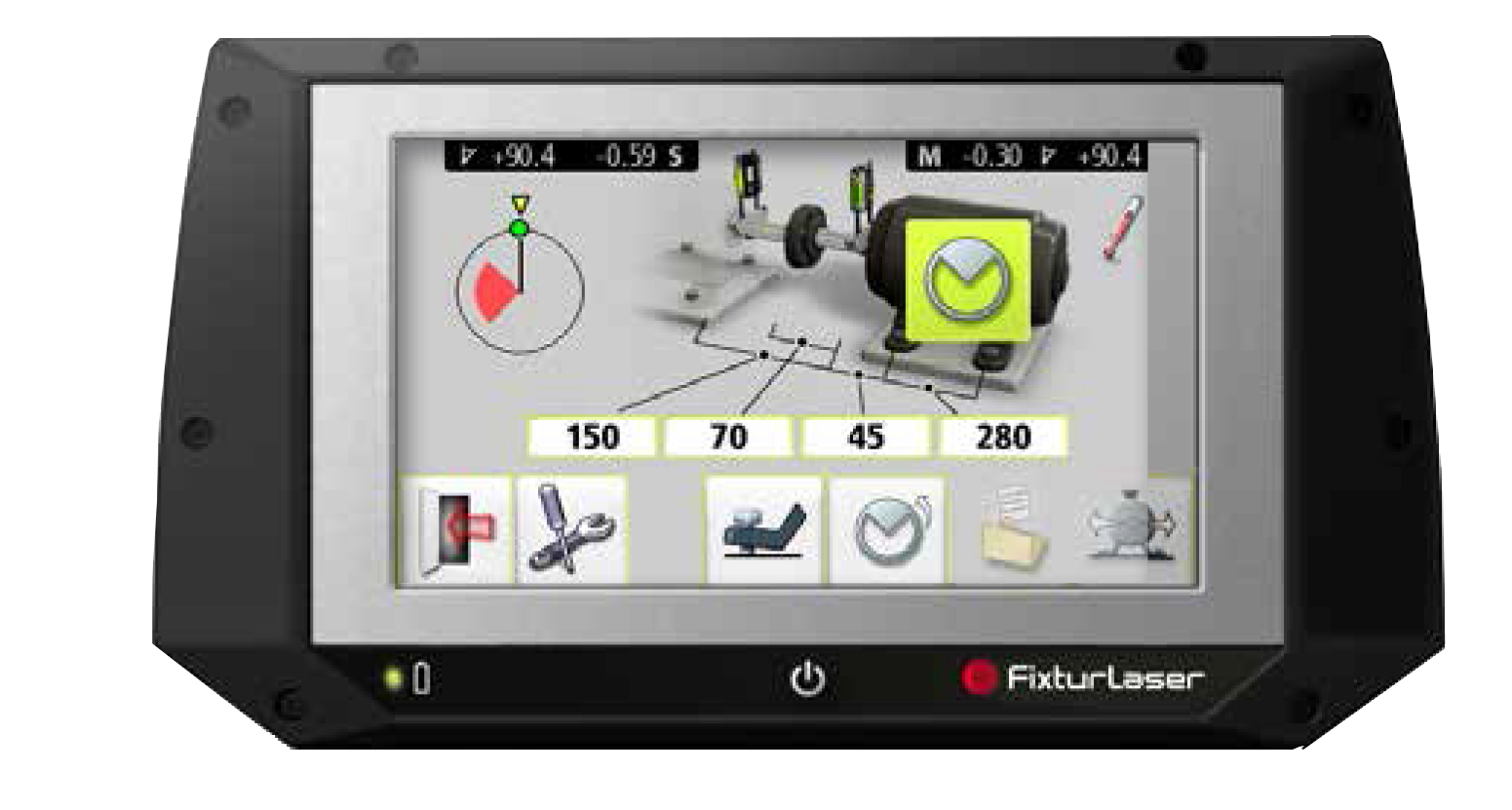 FIXTURLASER ECO
The Fixturlaser ECO is an affordable precision instrument created specifically for horizontal shaft alignment. In addition to providing Fixturlaser's industry-leading ease-of-use, the ECO comes with wireless sensor units, a 4" color display, rechargeable batteries and an IP65-certified design that can withstand harsh environments.
Product Details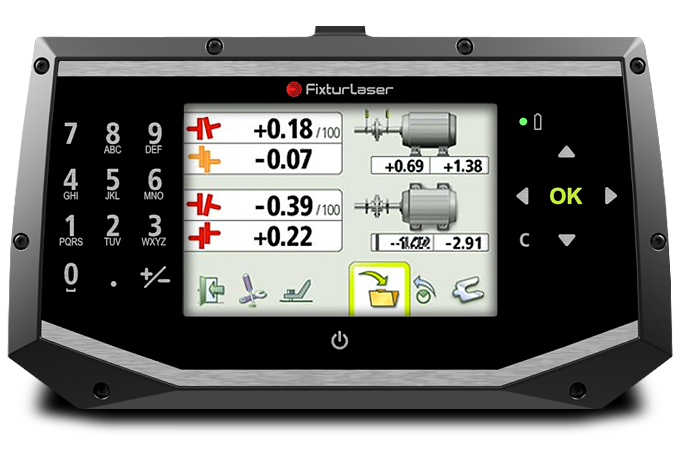 Fixturlaser SMC
Like no other, the Fixturlaser SMC is a portable, machinery diagnostic tool that allows mechanics and maintenance technicians to check the health of any rotating machine, as needed, in a matter of minutes. It requires no special training or certification and generates straightforward, simple machine diagnostic reports with both confidence and severity levels.
Product Details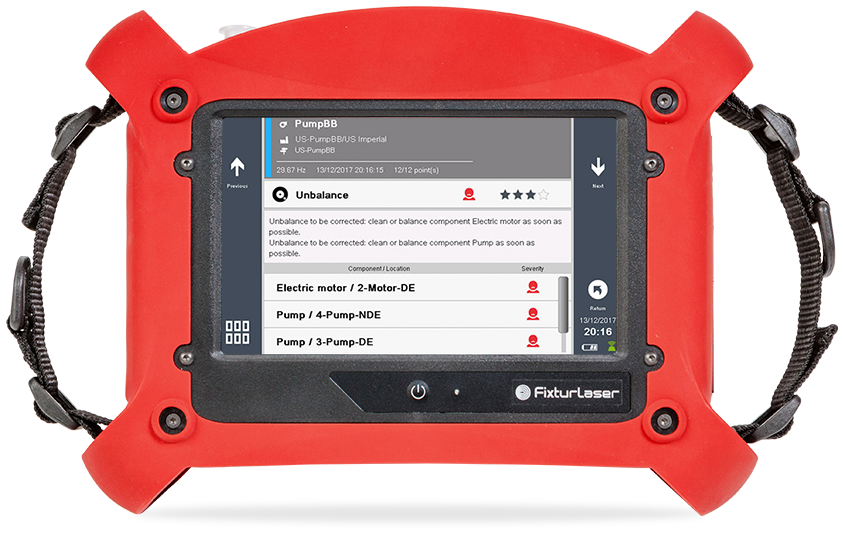 Interested in our shaft alignment devices or need advice?
Then please get in touch and we'll be glad to help.

T: +966 13 896 9012 | E: sales@irismt.com